text.skipToContent
text.skipToNavigation
Pricing will be shown based on this store.
Opening Hours

E-TOOLS UPDATES
New features on the Trade App and Trade Portal
We're always listening to your feedback so we can keep making improvements in our PlaceMakers E-TOOLS to provide the easiest online experience for you. Recently we've made a few updates that will make your life a little easier, check them out below.
PORTAL & APP - MAY 2023
Re-order from Previous Orders
You can now reorder items from a past invoice. Easily navigate to past orders and add item(s) directly from past invoices to the cart.
Easily filter by date range (from orders 12 months from today's date), Job account, order number, P.O reference, fulfilment type, product name/SKU or delivery address.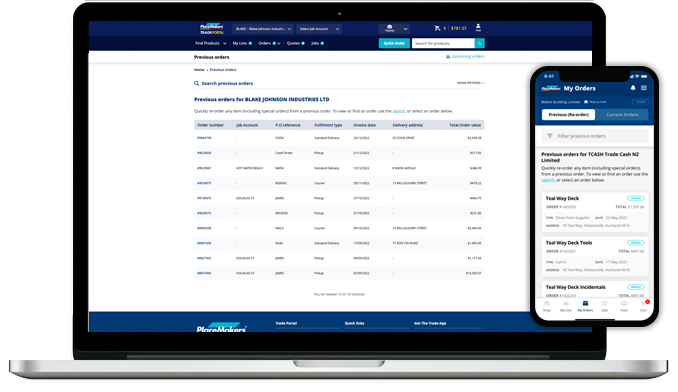 PORTAL & APP - MARCH 2023
Trade Cash Accounts
We're excited to announce that PlaceMakers Portal and App now welcome Trade Cash customers! As a valued customer, you can now enjoy all the features and benefits of a Trade Charge user*.
As a Trade Cash customer you can access product pricing and availability, and place orders online via the Portal and App. You'll also have the option to save your favourite products and create custom lists for faster ordering.
Our aim is to provide an inclusive and hassle-free shopping experience to all our customers, and we're thrilled to extend these benefits to Trade Cash customers. We're committed to helping you get the job done efficiently and effectively.
So, if you're a Trade Cash customer, simply register or log in to the PlaceMakers Portal or App to get started today!
* Excludes access to invoices online.
PORTAL & APP - MARCH 2023
Trade App Update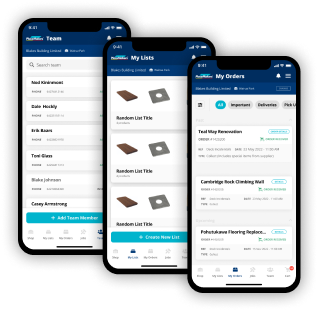 We're excited to announce the release of our design refresh for the app. We've made it even easier to find the products you need.
Related
You will be able to see related products that should be used together to complete a job, in a carousel on the Product Details page or in the Cart and you can simply add any one or all of the products to the cart.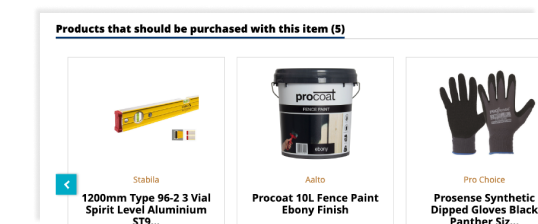 Alternative
You will also be able to see similar products (in case your original product is unavailable right now). Simply click on the Alternative products link when available to display a list of these products and swap to it in the cart.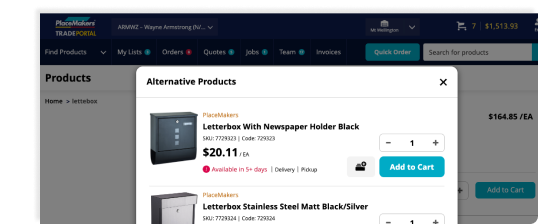 PORTAL & APP
Quotes Integration
We've sped up the time it takes for a won quote to be visible under Jobs so you can order the products you need even earlier, by integrating your simple quotes directly into our system as soon as you have marked the quote as won in the Trade Portal or the Trade App. No need to wait for one of the team to enter the details.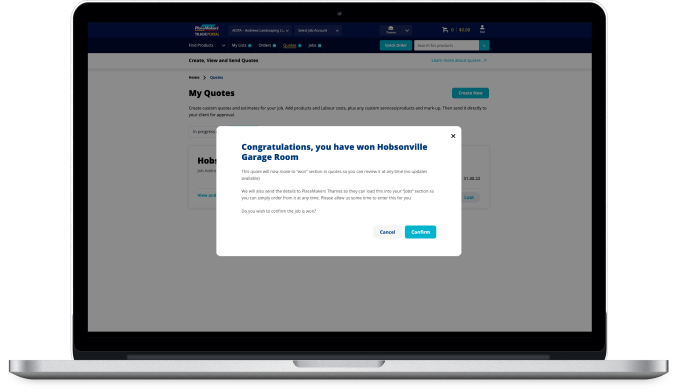 PORTAL
Order Management
You can request changes to the delivery or pickup date of your open orders or send a message to request a change to the order.
Simply click on the specific order and click on the relevant button, fill in the details and request the change/submit the message. One of our team will then receive the request and call you back to confirm if we can process the change or respond to the message with an update.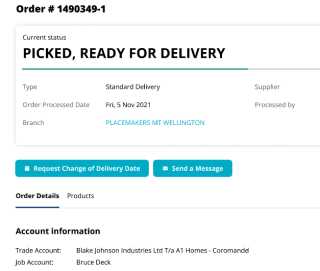 In your order
Options to request a change of delivery and send a message to your branch.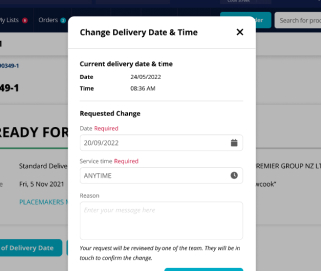 Change delivery date and time
Request a date or time change to your open order.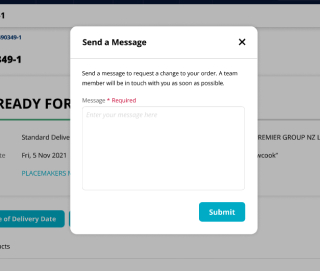 Send a message
Contact the team about your order, we'll be in touch as soon as possible.
All features available in E-TOOLS
Place orders for full standard delivery, courier delivery or pick-up
View, track, change or update your orders in one place
Search products, view your trade pricing and see if products are in stock at your local branch, or any other branch
Add team members, choose different level of access and delegate who can place orders
Detailed product information along with product images
A quantity calculator for products like timber to make it easier to work out how much you need and place an order straight into the app
Suggested search to save time when searching
Barcode Scanning on the Trade App – makes it a whole lot easier to build orders or add products to your lists (even from inside the branch)
Order from your list or upload a list to be able to order from
WATCH OUR HOW-TO VIDEOS
Getting stuck on our E-TOOLS? Watch our How-To videos to guide you through all our features so you can make the most of them!
PLACEMAKERS TRADE APP
Login or register for the PlaceMakers Trade App now. If you have a Trade Portal account already, you can log in to the Trade App using those same login details.
PLACEMAKERS TRADE PORTAL
Login or register for the PlaceMakers Trade Portal now. If you have a Trade App account already, you can log in to the Trade Portal using those same login details.