text.skipToContent
text.skipToNavigation
Pricing will be shown based on this store.
Opening Hours

Timber Cladding
Timber cladding continues to be one of the most beautiful, dynamic, and dependable ways to completely transform the exterior of your home. A natural resource, timber weatherboards are both functional and sustainable with a choice of species, profile, and finish that will perfectly complement both rural and urban settings.

WANT TO KNOW MORE? REQUEST YOUR COPY OF THE CLADDING CATALOGUE TODAY.
Natural Strength, Beauty, and Durability
A durable solution, timber cladding gives homeowners the versatility to create a striking contemporary facade with superior stained timbers or the pleasing horizontal shadow lines of a more classically styled home. From the earthy tones of western red cedar to a rich golden pine, there's a vast choice of colour, texture and finish options, to create a look and style to suit every taste.
Timber cladding is not only a renewable resource, it has unique grain and climate resistant properties. With careful selection, installation and the right maintenance, timber cladding can be a highly worthwhile investment for many decades to come.
Explore our large range of quality timber cladding from our leading suppliers to find the solution that will transform your property into your ideal home.
TIMBER CLADDING RANGE
Get more information on our range of metal cladding.
Western Red Cedar is an enduring and versatile timber which is highly valued for its visual beauty and stability. It is supplied in a wide selection of profile and colour combinations.
Learn more about Western Red Cedar
Claymark A-lign weatherboards are a versatile precision-cut cladding solution in premium sustainable pine for both classic and contemporary housing designs.
Learn more about Claymark A-lign
Abodo Vulcan weatherboards are a premium thermally modified NZ-grown sustainable plantation timber prized for their look, sustainability, and durability.
Learn more about Abodo Vulcan
Accoya vertical weatherboards are a sustainable solution offering premium stability with minimal maintenance, high weatherability and an outstanding warranty of 50 years.
Learn more about Accoya Weatherboards
Claymark Garrison weatherboards are an advanced sustainable pine cladding system that uses the latest Tru-Core technology to apply three barriers of protection.
Learn more about Claymark Garrison
Niagara Envira weatherboards are a True-Prime treated, sustainably sourced NZ Radiata pine product with a smooth, durable finish and a 25 year warranty.
Learn more about Niagara Envira
CHH Plywood Shadowclad panels are a lightweight sustainable NZ pine cladding solution suitable for staining and painting or available pre-primed.
Learn more about CHH Ply Shadowclad
ITI Timspec Weathertex is a lightweight Australian hardboard pressed cladding system made from natural hardwood pulp with added wax to create strength and durability and a 25 year warranty.
Learn more about ITI Timspec Weathertex
The RK INTERSET® Recessed Window System is designed for vertical and horizontal shiplap timber cladding. It is comprised of a set of aluminium flashings and thermoplastic stop-ends that interlink to form a picture-framed window recess.
Learn more about INTERSET®
Truwood® is a cost-effective timber cladding option with superior durability, stability and beauty. It is Codemark certified for use with Cedarscreen Vertical, Rusticated, Bevel Back and Board & Batten weatherboard systems.
Learn more about Truwood
Understanding Weatherboard Profiles
During the design process it's helpful to carefully consider the profile of your timber weatherboards as this will have a significant impact on the overall look and style of your cladding solution. Please visit our cladding comparison chart to see which profiles are available in vertical or horizontal lengths and their suitability for your project. Our main types of profile are bevel back, shiplap, rusticated, board and batten, and splay cut.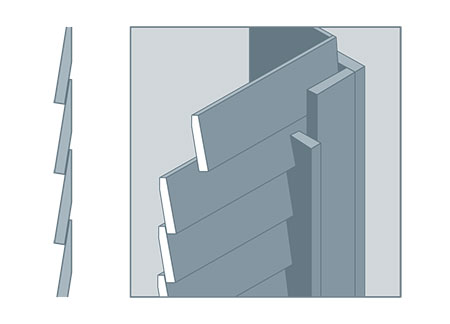 Bevel Back
This classic profile is well established in NZ and is still a popular choice for many homeowners. The bevel back has an overlapped look that creates a striking horizontal shadow line that will enhance both older properties & more contemporary builds. The bevel design also ensures that air can still penetrate the construction at the laps ensuring any excess water can drain or be dried by the circulating air. This makes it a highly durable solution suitable for even the most exposed environments or challenging climates.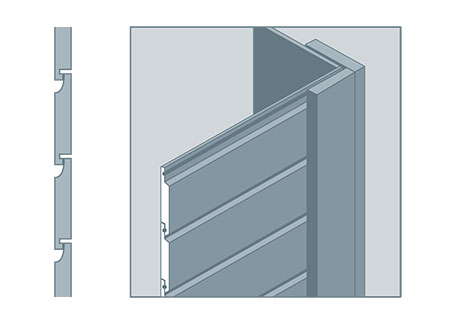 Rusticated
The rusticated profile is another classic type of horizontal cladding that has its origins in rural buildings. This popular profile is available in a variety of styles, from the traditional scalloped edge to the sharper grooves and deeper shadow lines of more contemporary designs. The rusticated profile is often the profile of choice when showcasing the natural features of real timber, it also performs reliably in terms of water resistance and durability.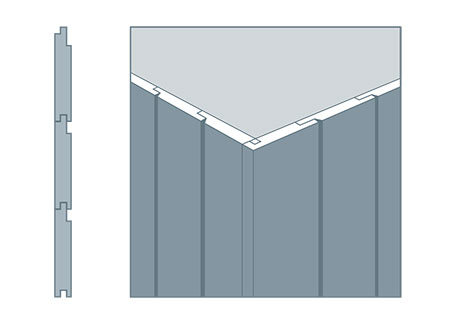 Shiplap
The traditional shiplap profile of overlapping timbers has a long history in NZ and remains popular because of its distinctive styling in both vertical and horizontal finishes. The shiplap profile continues to offer great value for money with superior timbers providing outstanding stability and a look that suits both traditional and contemporary designs. The shiplap profile allows boards to contract and expand without warping making them the ideal choice for more extreme climates or coastal locations.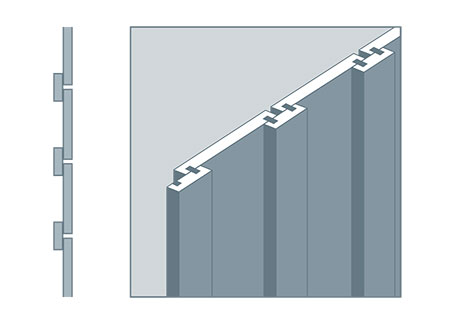 Board and Batten
The board and batten profile is a traditional timber cladding system composed of alternate wide vertical boards and narrow wooden strips (battens). It offers a dynamic and versatile solution that has seen a resurgence in popularity recently. Creating a distinctly contemporary look with negative detailing and shadow lines it is well suited to a variety of modern building designs. Affordable, flexible and available in a range of woodgrain and smooth finishes this profile adds great visual appeal and can also be used as a partial siding with textured walls or other types of facade.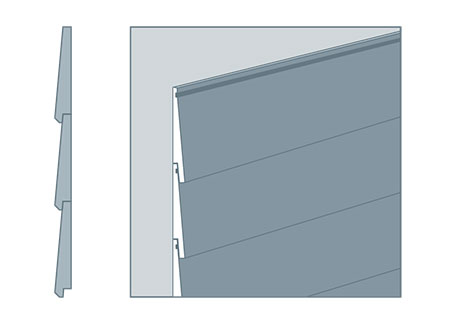 Splay Cut
The splay cut or angled-cut weatherboard profile is made up of boards that are cut at an angle to provide a chamfered edge on each side, producing a parallelogram shape. These boards are equally spaced apart offering a clean, contemporary shadow slat appearance. An affordable and versatile solution, the dynamic look of a splay cut weatherboard will add drama to an exterior or feature wall.
Cladding Comparison Table
Get a quick comparison of the cladding types available. For more information on the specific products please refer to the relevant pages.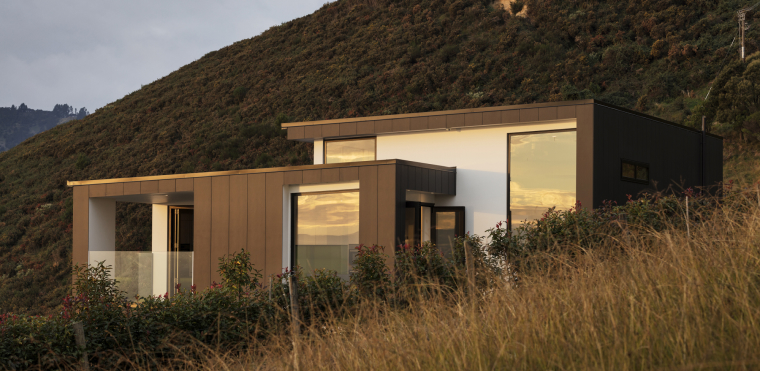 Cladding defines your home by offering a first impression that reflects your style and taste. Whether you're after a classic look or a sleek modern style, we've got something for every home.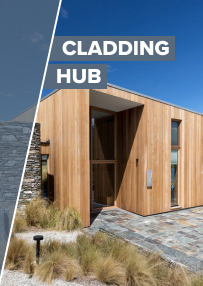 Browse through the PlaceMakers Cladding catalogue and find the perfect look for your home. Alternatively, pick up a copy from your local store. Browse the cladding catalogue.