text.skipToContent
text.skipToNavigation
Pricing will be shown based on this store.
Opening Hours
Access your invoices and statements online via the PlaceMakers Trade Portal
PlaceMakers Trade Portal is your all in one! It has everything you need, giving you the ability to view over 20,000+ products, place orders for pickup, courier or standard delivery and check your invoices / credit notes / statements online with one login.
How to view invoices online.
Check out a video to see where to find your invoices through the Trade Portal.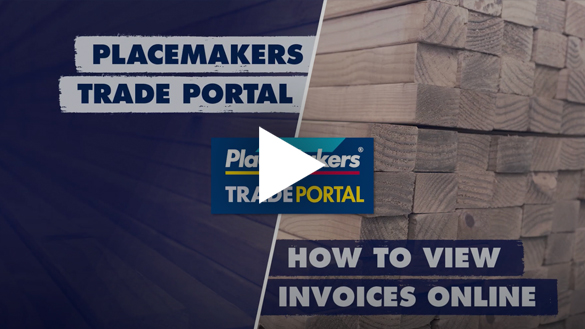 PlaceMakers Invoices Online
PlaceMakers Invoices Online provides a user friendly site where you can access your invoices/credit notes/statements and extract transactions into your own accounting package.
To make it easy, you can search transactions based on date/branch/packing slip/purchase order reference and you can print/email/download everything in PDF format.
Access your Invoices Online through the Trade Portal, we've got it all in one! If you don't have a Trade Portal account, register now and you will be able to place orders online for standard delivery, click & collect or courier as well as view your invoices online, so register now!
 
* Not available for Trade Cash customers
Don't have a Trade App / Portal login?
Let's fix that! Register for the Trade Portal now and make your life easier...
Trade Portal Xero Integration
The PlaceMakers Trade Portal is here to make your life easier! Giving you access to place orders online, view your trade price and now view all your invoices as well.
With XERO and MYOB integration you can manage invoices direct from the Trade Portal in to your accounting platform, saving you time to get back on the job!
Find out more about XERO integration here.
LOGIN TO TRADE PORTAL
Login to the Trade Portal and access your Invoices Online now!
INVOICES ONLINE
Invoices Online is no longer accessible on it's own, it has now been added to the Trade Portal so register for the Trade Portal now and access everything in one place!